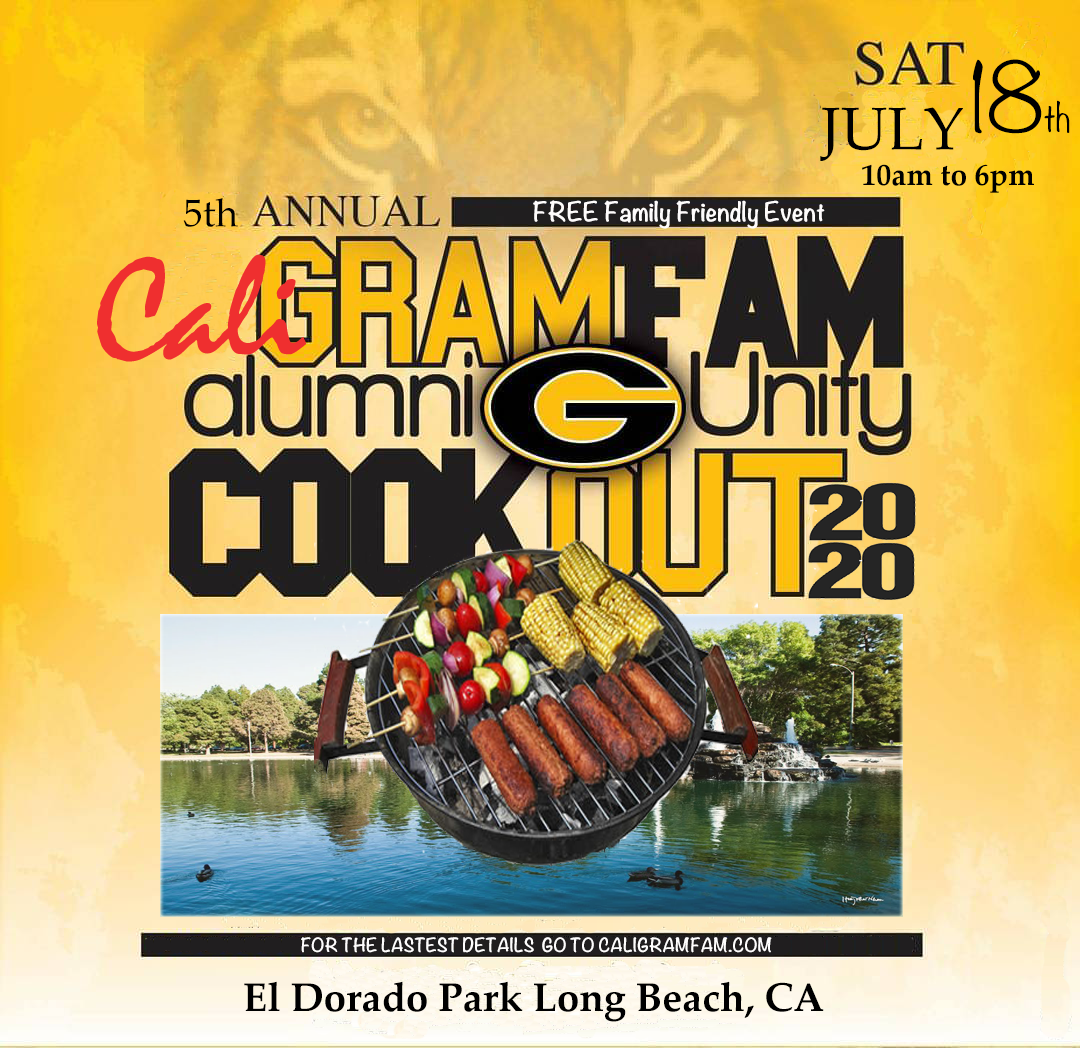 5th Annual Cali GramFam Alumni Unity Cookout
CALI GramFam COOKOUT! Saturday JULY 18th 2020! 💛🖤❤️
✅COST: FREE!
✅LOCATION: 7550 E. Spring Street. Long Beach CA 90815.
(El Dorado Regional Park) in the "ARBOR DAY GROVE" section by the beautiful lake.
**See MAP Attached** Once you enter the park follow the GOLD Road on the Map to the RED Star!
✅TIME: 10AM to 6PM.
✅FOOD: FREE Delicious BBQ and more.
✅FUN & ENTERTAINMENT: Two Jumpers will be available for the Kids, DJ Playing Great music, Games, Dominoes, Cards, BIG Raffle with great prizes & more.
✅PARKING: $7
✅ More info at www.CaliGramFam.com
ARE YOU READY for the Biggest GRAMBLING COOKOUT in California History!
⭐️ This will be a Multi-Generational event for Kids, Parents, Grandparents, Aunts, Uncles, Cousins, and Friends.
⭐️ People are flying and driving in from all across the Country –> Louisiana, Texas, Georgia, Illinois, Carolina's, New York, Las Vegas, Arizona, Indiana, Seattle, Mississippi, Virginia, Arkansas, Missouri, Michigan, Alabama, Florida & Much More…
⭐️ HUNDREDS & HUNDREDS of people from the West Coast, South, Mid-West, & East Coast will all be in Long Beach California on Saturday JULY 18th for this EPIC Event!
(1.) NOTE:
We will have tables and chairs. However, you may want to bring your own chairs, blankets, tents, etc as we expect a MASSIVE TURNOUT!!!
(2.) DONATIONS: www. CaliGramFamDonations.com
There has been massive response from the GRAM FAM who want to Donate & Bring items to the Picnic. We appreciate it! Water, Soda, juice Boxes, Ice, Additional Food, etc are all Welcomed!
(3.) RAFFLE:
FREE Great prizes and a GRAND PRIZE of a FREE Flat Screen TV!
FREE Prizes will be given to the Winner of who brings the Best Tasting Side Dish. So Bring your Best Dirty Rice, Potato Salad, Spaghetti, Chicken, Greens, Salad, Mac and Cheese, Fruit and Veggie Trays, Beans, Desserts, etc.
Lets have some FUN in the CALIFORNIA SUN! Bring your Family, Kids, Friends as we enjoy a beautiful California Day with the CALI GramFam🌴🌞
🚨🚨🚨Please Spread the word to your Friends and Family!
| | |
| --- | --- |
| Date: | July 18, 2020 |
| From: | 10am |
| To: | 6pm |
| Location: | 7550 E. Spring Street. Long Beach CA 90815. (El Dorado Regional Park) in the "ARBOR DAY GROVE" section by the beautiful lake. |